Travel
Shivpuri:Far from the madding crowd-Travelogue Day 2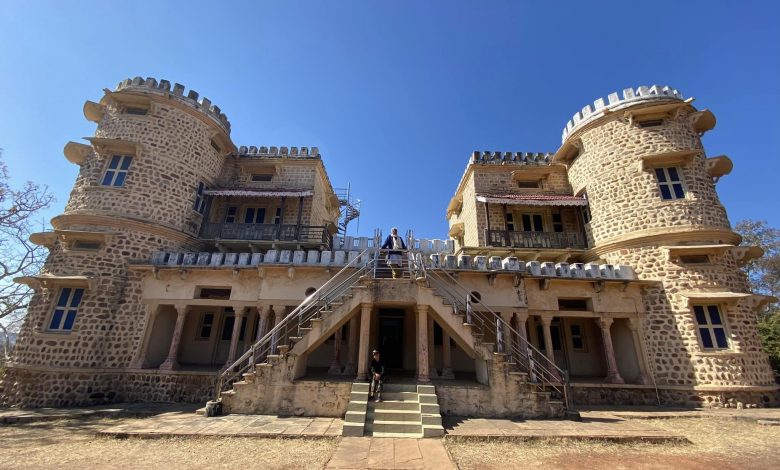 George Castle, front view
Shivpuri: Credit for Shivpuri's development goes to Maharaja Madho Rao Scindia (1876 –1925). In the first decade of the 20th century he developed massive infrastructure in the region's deciduous forests — where trees lose/ shed their leaves every year — to facilitate his and his cronies hunting expeditions.
In the year 1911 when the Swadeshi movement against the British Raj was at its peak in India, Madho Rao Scindia was not only busy receiving honours and titles from his British masters but he invited his lord and master King George V for a tiger hunt to Shivpuri. George was scheduled to visit India along with Mary to attend his own coronation ceremony at Delhi Darbar on December 12, 1911. This day is significant in Indian history because after taking over as the King-Emperor, George V had announced the move of India's capital from Kolkata to Delhi.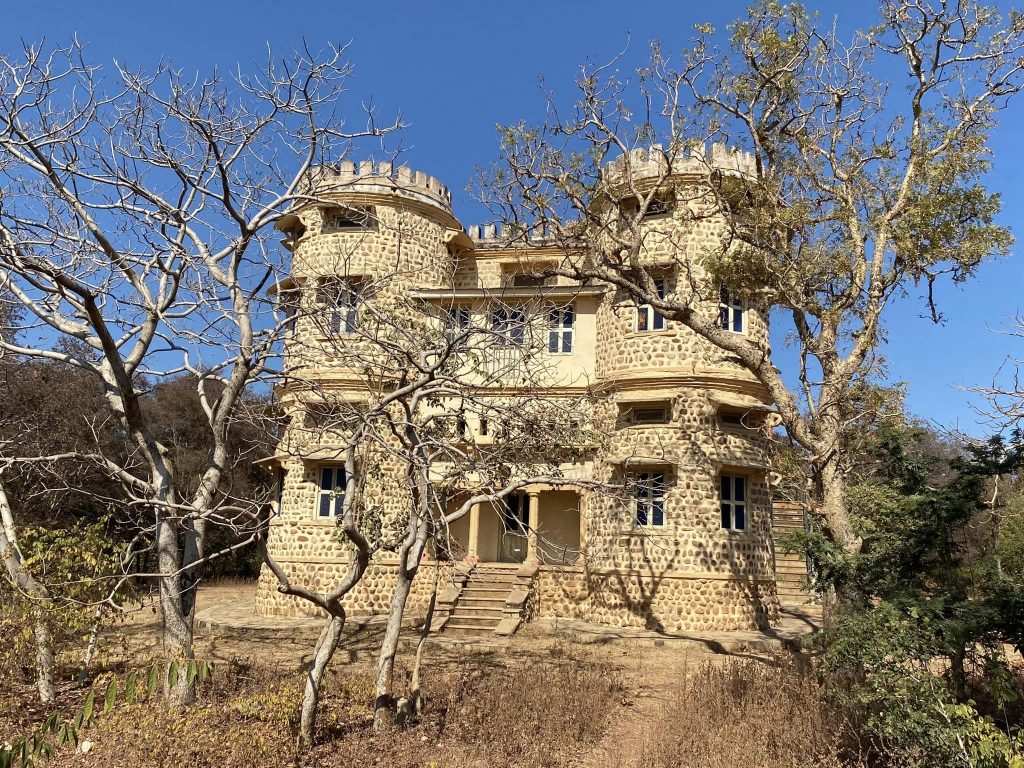 A two-storey castle of locally sourced yellow sand stones was constructed at the highest peak of the forest for George V's one night stay by Madho Rao. Italian tiles on floors, Belgian glass windows and a bathtub in the castle are as good as new even after 111 years in 2022. Known as George Castle it has become Shivpuri's major tourist attraction.
The castle was ready but George V's visit to Shivpuri did not materialise as he preferred to go on a 10-day tiger hunt to Nepal.
In 1918 Madho Rao went on to construct two dams on the Manier river flowing through the forest. These two rain-fed dams, in addition to being Shivpuri's main tourist attractions, have become a lifeline of the region with water supply from these sustaining not only the flora and fauna but also human habitations.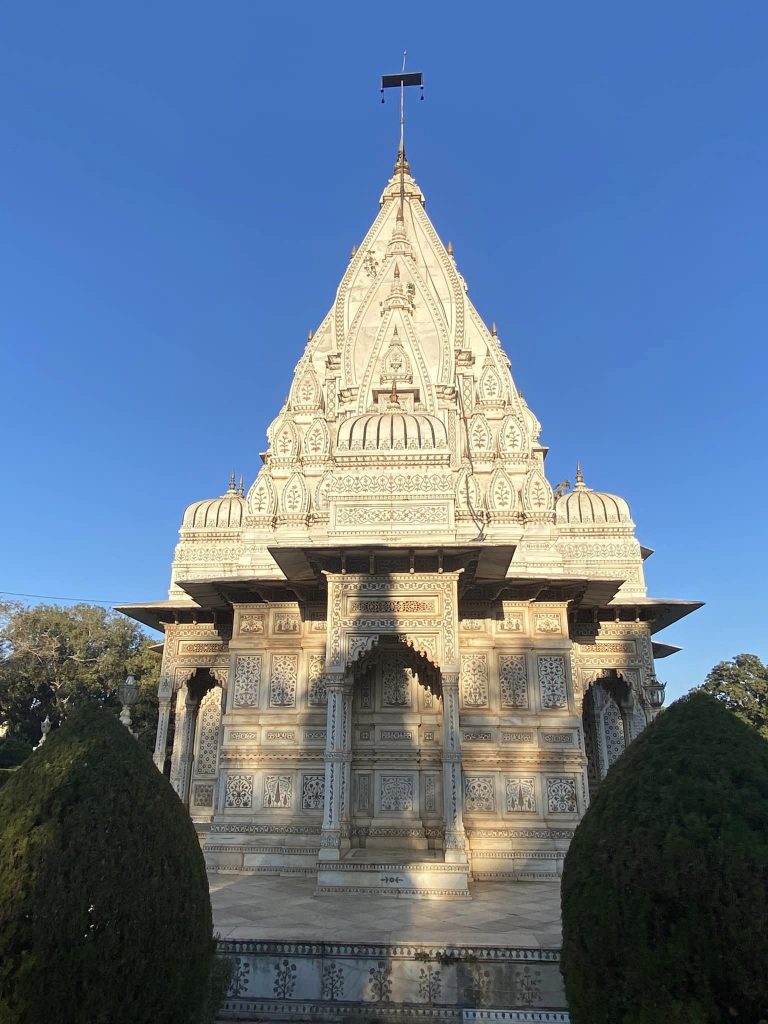 A parcel of land in Shivpuri also became Scindia clan's favourite final resting ground. In fact, Shivpuri is famous for two chhatris (cenotaphs) built in memory of Madho Rao and his mother Sakhyabai.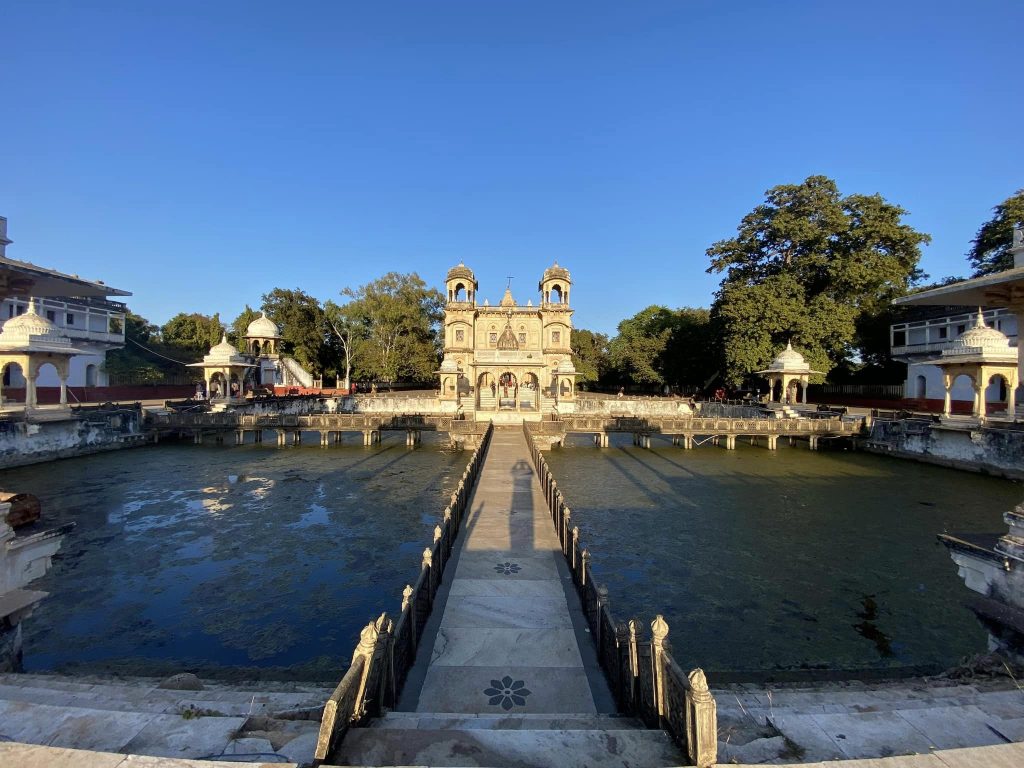 Madho Rao's chhatri, completed in 1930s, is a unique masterpiece of intricate marble craftsmanship. Inside the spacious hall of the chhatri Madho Rao's life size statue is occupying the slot reserved for the main deity in the garbha griha. Here his life size statue seems to be lording over the 12-inch Shivalingam. Outside the main door of this chhatri is Nandi, the sacred bull of Lord Shiva. Nandi must definitely be laughing at the audacity of this statue trying to boss over the lord of lords, Mahadeva!
Majority of chhatris — dome shaped canopy or pavilions above tombs — in Rajasthan, Madhya Pradesh and Gujarat are red, yellow or grey stone mausoleums. What makes this Madho Rao's chhatri unique is the use of marble stone, silver, gold and precious and semi precious stones in building of this masterpiece of craftsmanship.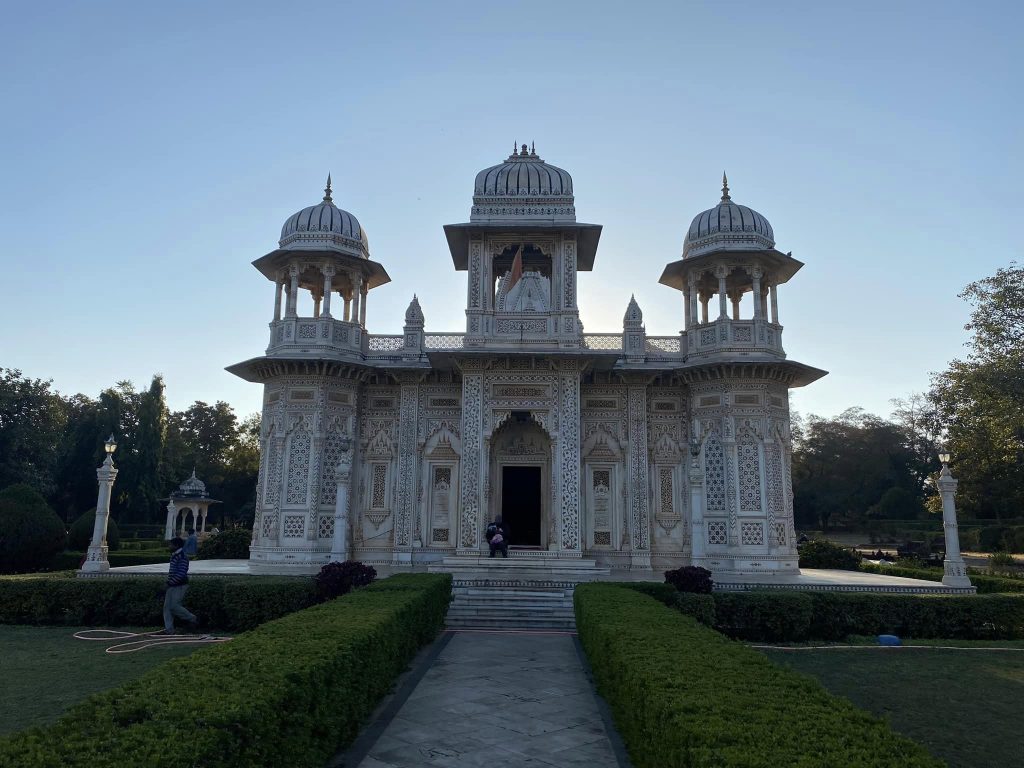 One reaches these chhatris after a long walk through a well laid out beautiful Mughal style garden. This massive complex of gardens, fountains and pathways, canals and bridges if maintained well will rank among the most beautiful gardens of India.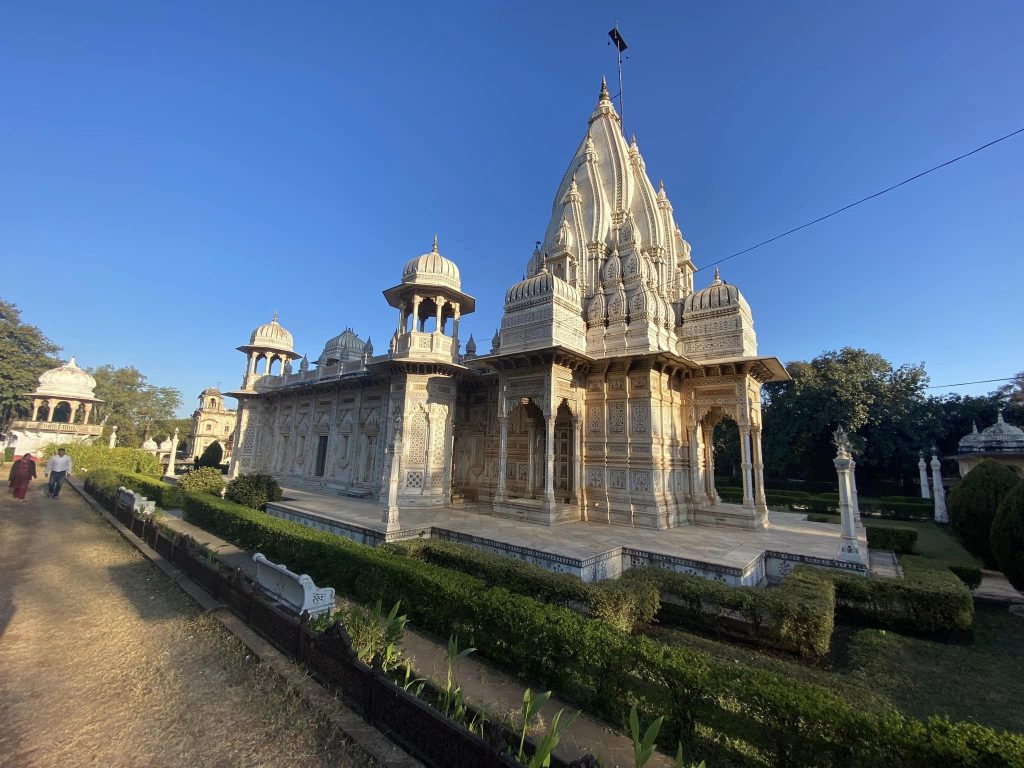 Unfortunately the complex is in a state of neglect and disrepair. Pealing plaster, broken pathways, stone slabs and fountains and canals in complete disrepair welcome visitors to the chattries.
The Scindia family has appointed trustees to manage this huge property. Trustees seem interested only in collecting the entrance fee of Rs 30 per head which can never be enough for the upkeep of such a massive complex.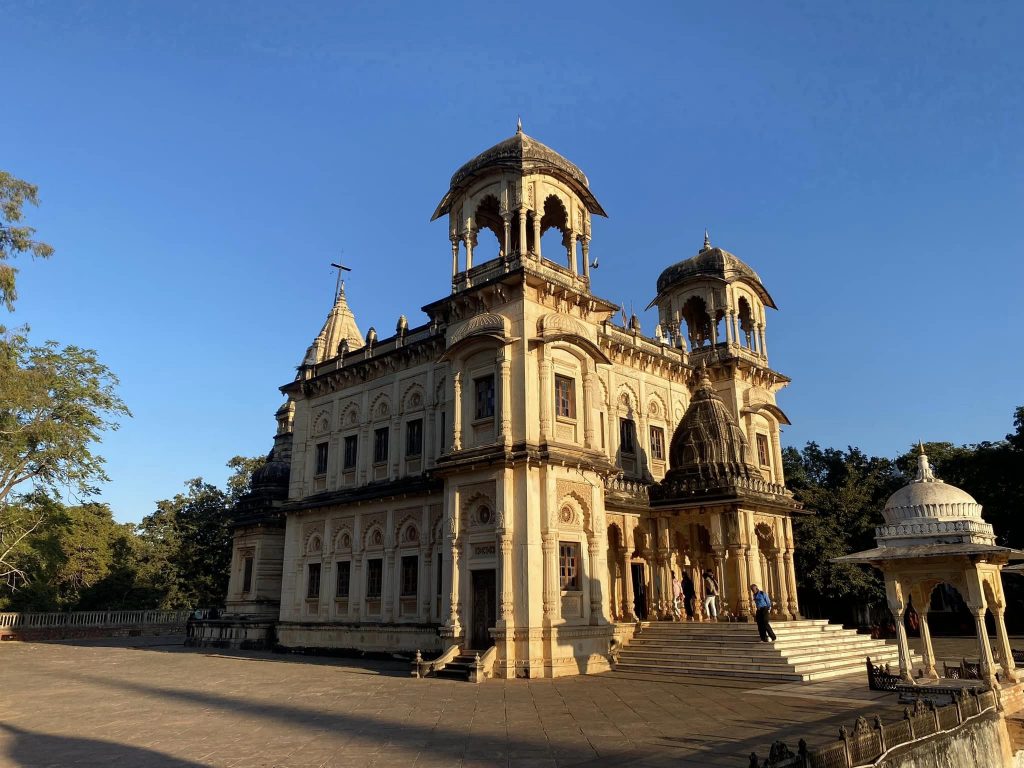 "Majority of employees have left due to non payment of wages," said one of the employees of the trust. A few left holding the fort like security guards are reportedly paid a shockingly miserable amount of around Rs 4000 per month each which is far below the minimum wage diktat of the government.
Sad to see such a dilapidated complex especially of the rich Scindia clan which is continuing to enjoy the fruits of political power and spotlight even seven decades after the abolition of princely states and their fiefdoms.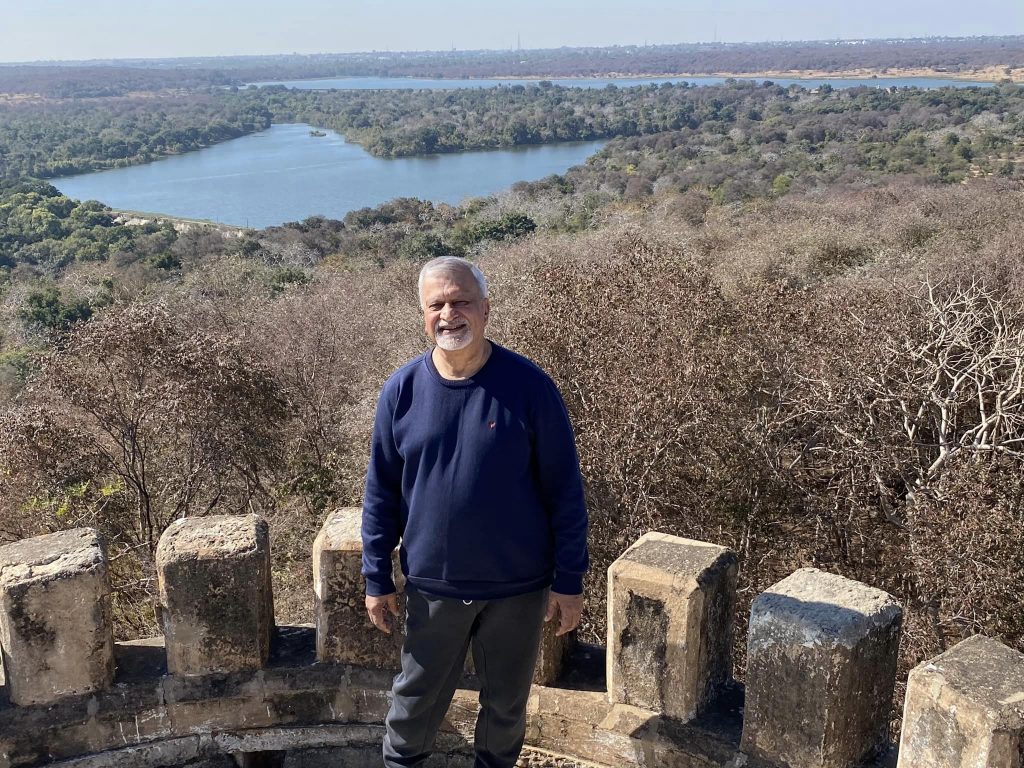 Obviously the great grandson Jyotiraditya Scindia, who calls himself the Maharaja of Gwalior, and his aunts have moved on. Ancestry is invoked only to grab and enjoy the birthright privileges. Jyotiraditya has received the Cabinet berths both in the Congress as well as the BJP governments at the centre on this ground. The great grandfather's mausoleum is no longer of any use to him now. Same is the story of his aunts Vasundhara Raje and Yashodhara Raje whose grand father Madho Rao was.