Travel
Trending
Gwalior: Where time has come to a standstill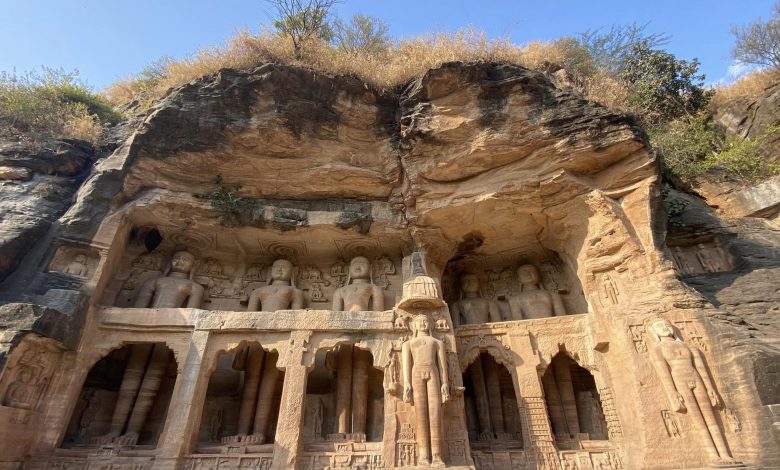 Rock cut Jain images, carved during the 15th century, Urwai Gate, Gwalior Fort.
Gwalior : Gwalior is being transformed as a Smart City under the Smart City Mission of the central government.
For a visitor the first and only visible sign of this planned transformation is a series of two-colour temple style sign boards erected across the city, announcing names of various localities. These new ones are in addition to the blue and white universal size and style signboards dotting the skyline of the city which is known for its medieval era palaces, forts, Jain sculptures, tombs, water tanks and temples.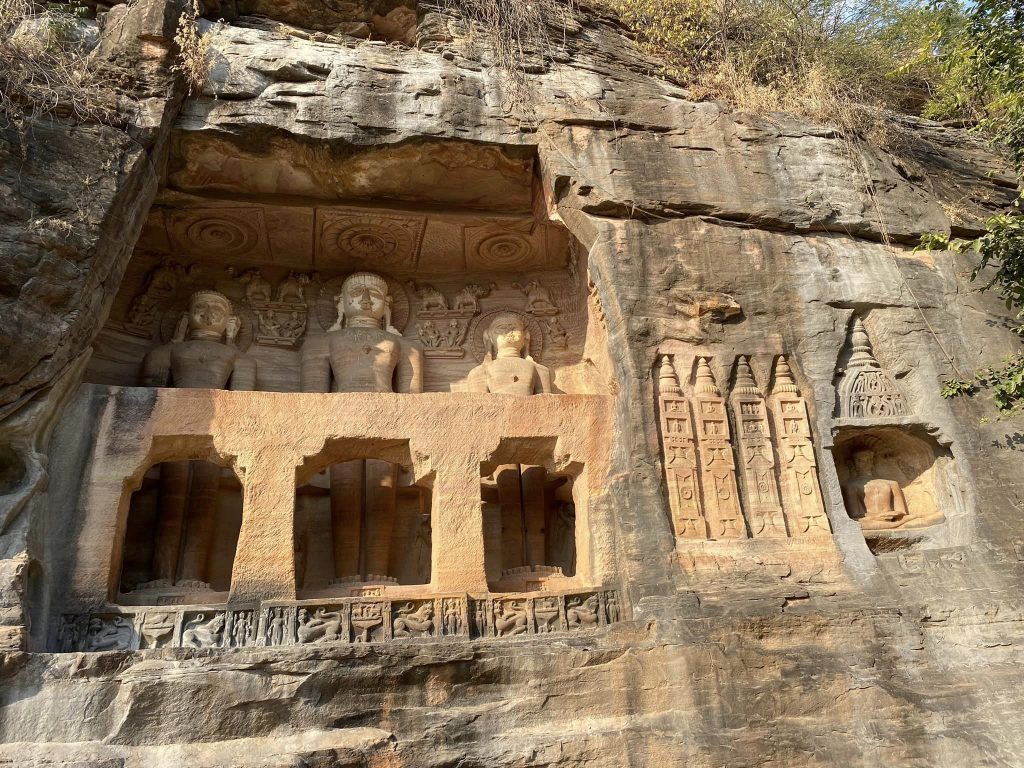 Gandhi Road, Maharani Lakshmibai Road, Moti Mahal Road and Manas Bhawan Road are the main arteries of the city Gwalior. Around these roads live the high and mighty — erstwhile royalty, bureaucrats, politicians and businessmen — in sprawling bungalows and palaces. These roads are wide, well maintained and definitely a modern face of the city which according to planners is soon going to be one of the 100 smart cities of India.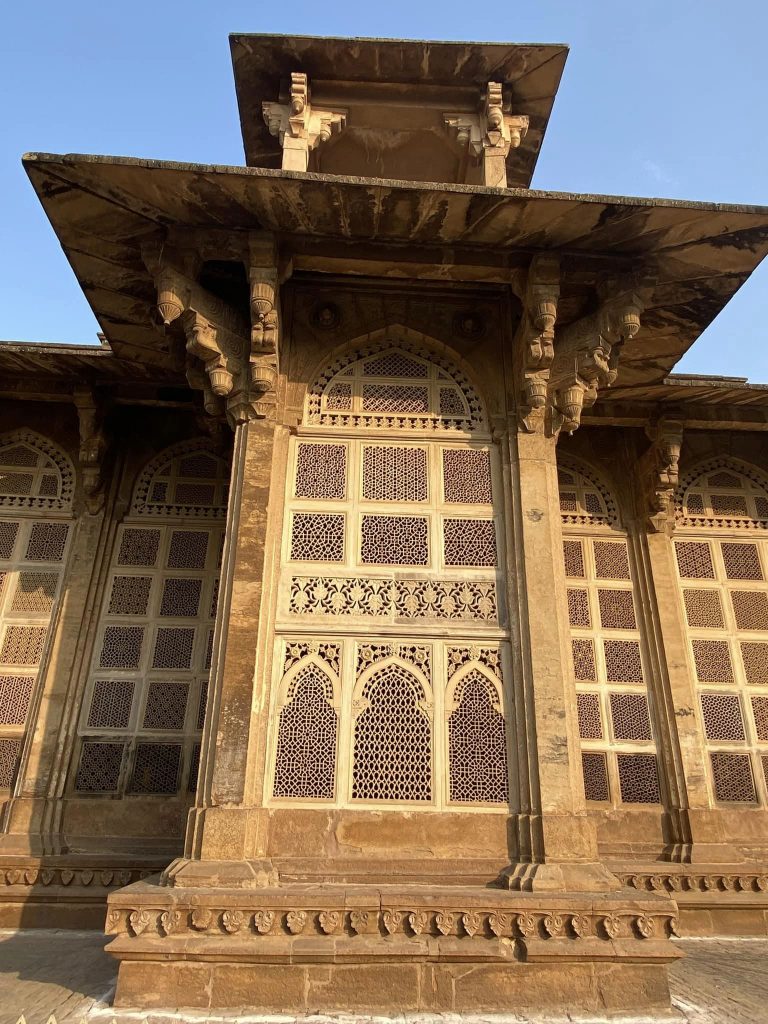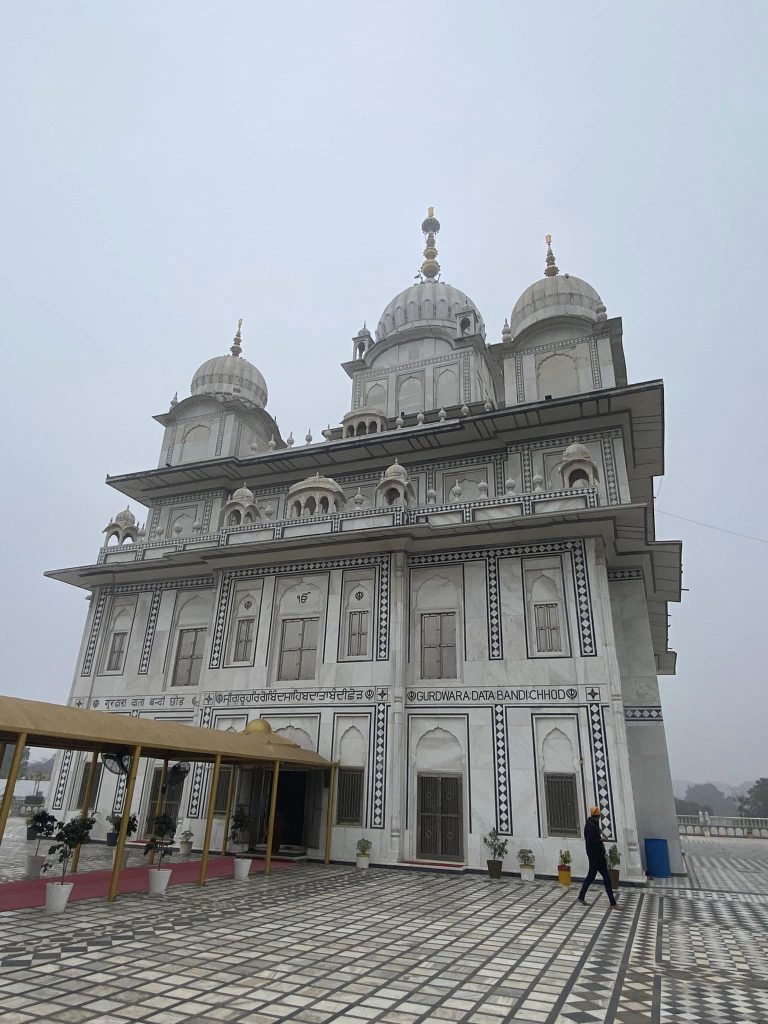 Gurudwara Data Bandi Chhod, Gwalior Fort complex. The Sixth Guru of Sikhs, Guru Hargobind was held in captivity along with 52 Rajput kings by Emperor Jahangir. When Jahangir decided to release the guru from prison on a Diwali day the guru also negotiated with him the release of all Rajput kings. That is why this gurudwara is called Data Bandi (prisoners) chhod (release).
However, as one moves away from these roads and branches off into different sections of the old city, one gets transported to a small town of 1980s — narrow over crowded roads, auto-rickshaws choking the streets and shops spilling onto the roads.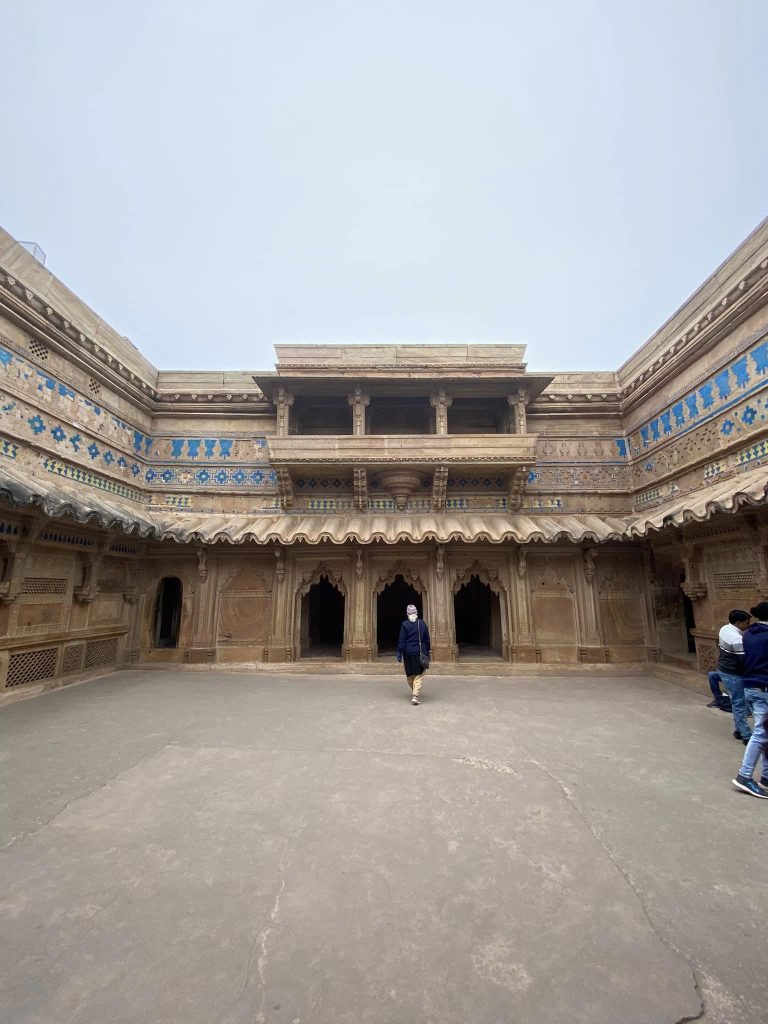 Roads leading to the Gwalior Fort's gates pass through residential areas majority of which look like unplanned colonies. Legalised encroachments they definitely are. In Gwalior one only sees two classes of people, rich and poor. Middle class seems to be in a minority in Gwalior.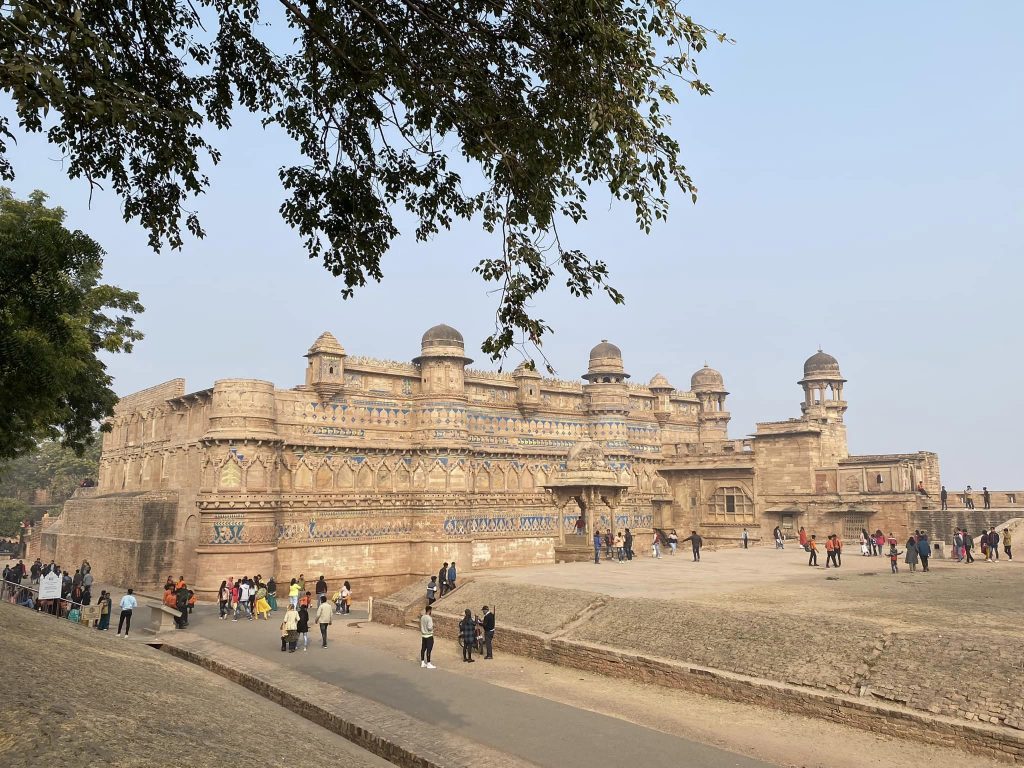 Four-storey Man Mandir Palace, Gwalior Fort. The fort complex also has Karan, Vikram, Jahangir and Shahjahan Palaces. A number of massive rain water tanks, and temples.
The section of the city where Jayajirao Scindia built his palace Jai Vilas Mahal, also known as the Jai Vilas Palace, in 1874, symbolises the royal era where wealth was an exclusive preserve of the royalty and its coterie. A majority of other subjects more or less lived on meagre sustenance. One could see the same scenario being replayed in the residential areas and streets of Gwalior in 2022.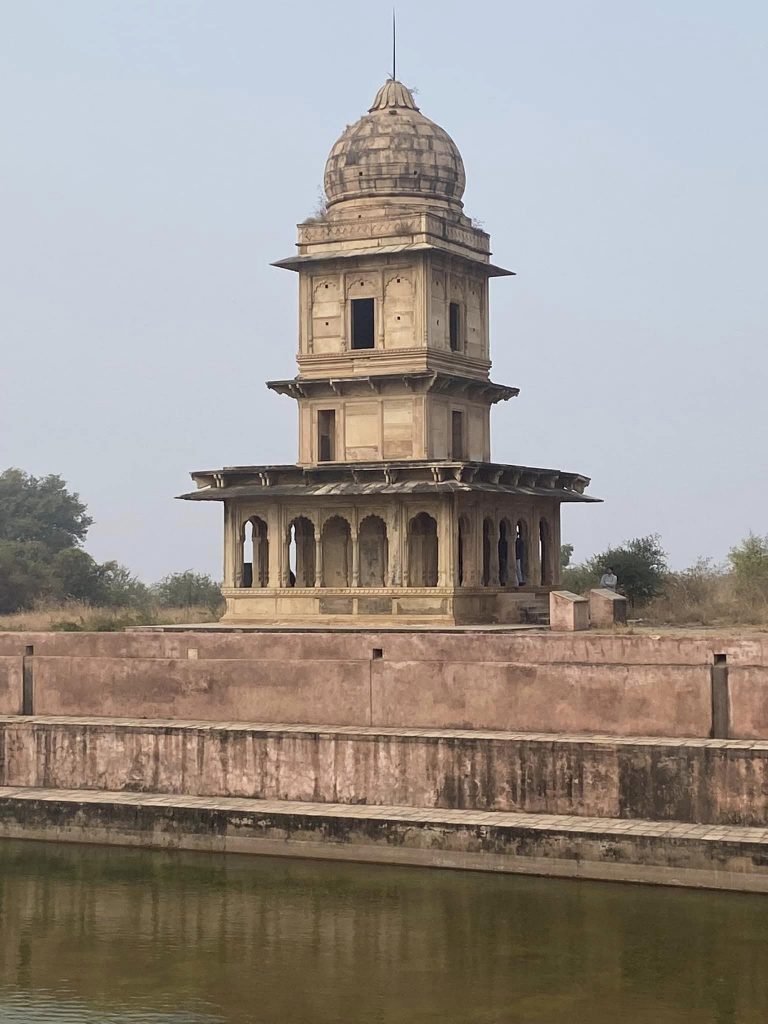 Bhim Singh Rana's chhatri next to Jauhar Kund which was turned into a rain water tank by Jahangir. Gohad ruler Rana had captured the fort from Mughals in 1754. He died fighting the Marathas in 1756.
The fort is perched atop a 100 meter high rocky hill which is 2.5 km long and 200 to 750 meters wide. Colonies have sprung up in the foothills literally choking the progress of tourists through two gates to the City's most prestigious heritage sight. All the gates leading to the fort from different wings of the city tell the same story.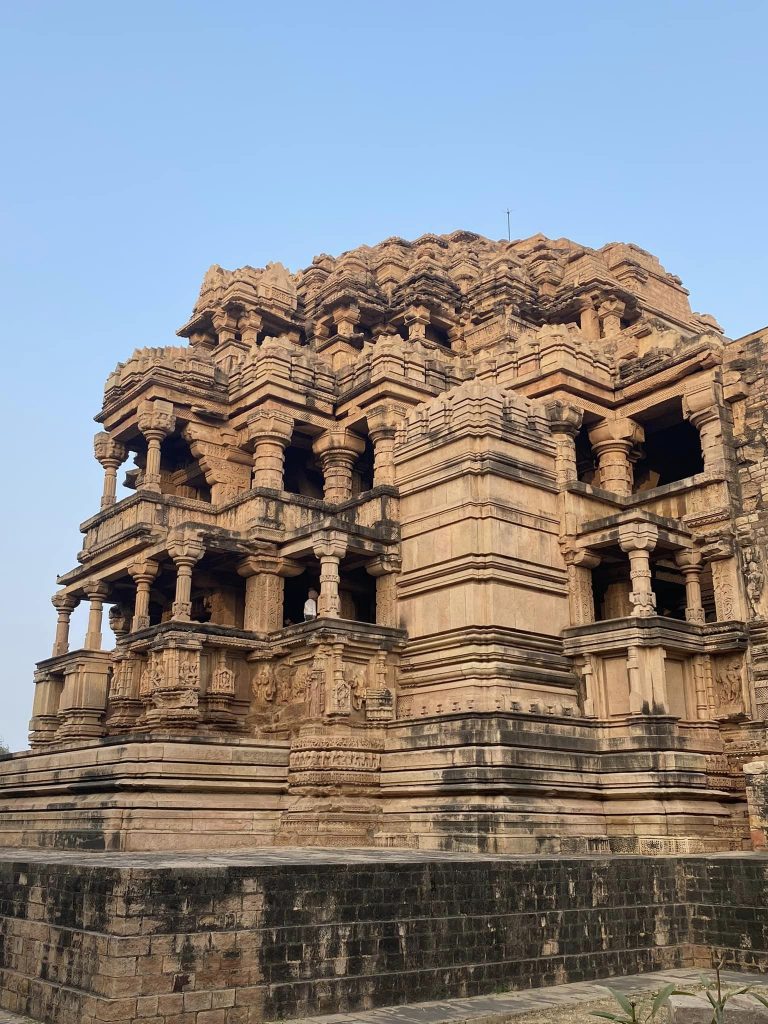 Two-temple structure called Sas-Bahu temple is famous for its architectural grandeur. Bigger temple is the Sas (mother-in-law) while smaller is the Bahu (daughter-in-law). The temple was completed in 1093 AD.
Supplying water, piped gas, power and providing other utilities and building infrastructure is going to be an uphill task while transforming Gwalior as a Smart City. Hope smart city concept goes beyond the act of erecting additional signboards across the town!