Ghaziabad
Rashtriya Vyaapar Mandal Holds Meeting to Address Road Infrastructure Concerns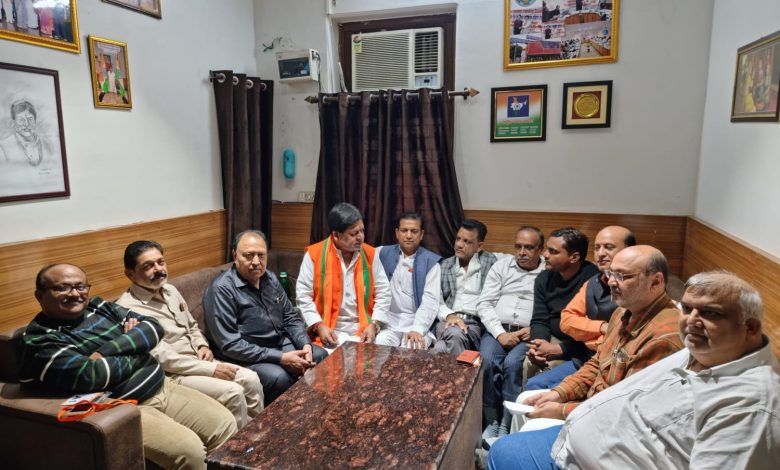 Ghaziabad: In a proactive move to address the road infrastructure challenges in Ghaziabad, the Rashtriya Vyaapar Mandal convened a meeting on Saturday at 3:30 PM. The meeting, presided over by Balakishan Gupta and coordinated by Sandeep Tyagi, saw the participation of various stakeholders.
The attendees deliberated on urgent measures needed to immediately rectify the condition of roads in Loha Mandi, Nehru Nagar, and Rajnagar Extension, with the aim to eliminate potholes and ensure smooth traffic flow. The discussions centered around providing relief to traders, customers, and the general public who have been facing difficulties due to the prevailing bottlenecks.
One of the significant concerns raised during the meeting was the excessive use of mobile phones by police personnel to issue traffic fines ranging up to two lakh rupees, instead of focusing on enhancing security measures in the markets. The participants suggested bolstering security arrangements in the markets rather than resorting to hefty fines, which often creates negative sentiment among citizens.
The meeting also highlighted the importance of streamlining the process of granting arms licenses to traders, with a priority-based approach. Key figures present at the meeting included Balakishan Gupta, Sandeep Tyagi, Ritesh Sharma, Yogi Tyagi, Manoj Gupta, Dr. Gaurav Saini, Paramanand Singhal, Pandit Ashok Bhartiya, Neeraj Kaushik, Anil Tyagi, and Sanjeev Garg.
The discussion revolved around the collective responsibility to improve road infrastructure for the betterment of commerce, convenience, and public safety. It underscored the urgency to address the road-related issues, ultimately aiming to enhance the overall quality of life in the region.