Meerut
Deepak Was Cremated Without A Head, And Meerut Police Failed To Recover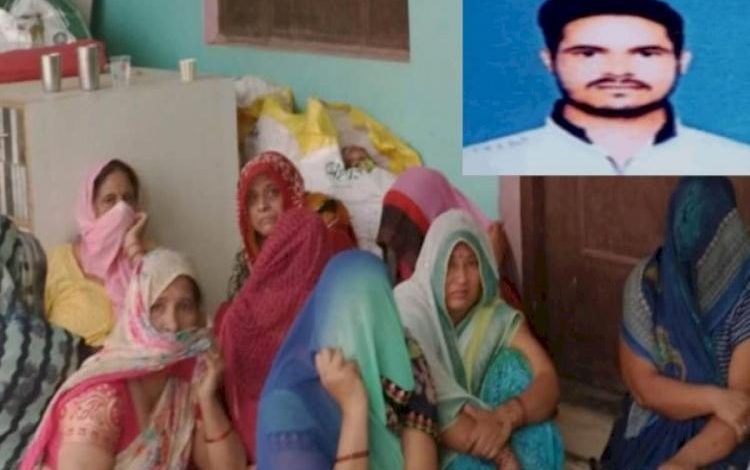 Meerut: Even two days after the murder of Deepak Tyagi, neither the police could recover the head of the deceased nor catch the accused. Angered by this, the villagers had announced not to perform the last rites without the head. The officials spoke to the father of the deceased and the villagers. They said that they want to perform the last rites of Deepak with respect. The villagers and relatives continued to demand the officers bring their heads. Minister of State Dinesh Khatik assured to keep the matter before the Chief Minister and take strict action against the accused. After this, the last rites were performed in the evening at the crematorium in the village amidst tight security.
Aman alias Deepak Tyagi, son of Dhirendra Tyagi alias Bhagatji, was kidnapped and murdered for two days in Khajuri village of Parikshitgarh police station area. The killers had also taken away his head. The police had detained some people from Badhla village on the basis of suspicion. After the post-mortem on Tuesday, the headless body was handed over to the family members.
Angry relatives and villagers blocked the main road outside the village by placing the dead body. The family members said that even if the body has to be kept in the fridge, they will not perform the last rites without getting the head. There was also a demand to arrest the accused and impose Rasuka, run bulldozers at their homes. The police officers persuaded them to perform the last rites of Deepak. Action will be taken against the accused within the ambit of the law. Minister of State for Jal Shakti Dinesh Khatik reached the house of the victim's family. He assured that he will keep the entire incident in front of the Chief Minister so that strict action can be taken against the accused. After this, the family members got ready for the last rites. last rites were performed at 4 pm under tight security.
Every eye moist, sister also went behind the funeral procession
After reaching the dead body home from the mortuary, the relatives roared and wept. When the funeral procession started, the sister also followed behind. Everyone's eyes were moist at the cremation ground. Police and PAC are deployed in the village.
SSP camped in the village throughout the day
SSP Rohit Sajwan, SP Dehat Keshav Kumar, SP City Piyush Singh, and SP Crime Anit Kumar have camped in the village due to suspicion of the youths of the Muslim community in the murder. Four teams of police are engaged to nab the accused.
Searched head in the drain from Sona to Mawana
By arranging lights, the police tried to find the head with the help of divers in the drain flowing between Sona village to Mawana all night. On Wednesday also search was done at other places including ponds but without success.