Meerut
Student's Tragic Leap Leads to Schools Protest in Meerut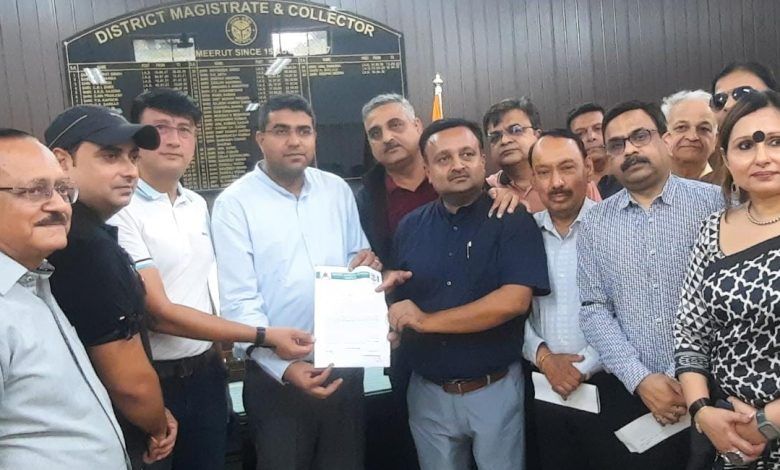 Meerut: In a shocking incident unfolded at a school in Azamgarh, where a student tragically jumped from the rooftop, resulting in her demise. The local authorities responded swiftly, apprehending the school's principal and a teacher, a move that has ignited a wave of protest from the schools across Uttar Pradesh.
The distressing event transpired at a school in Azamgarh, where a young female student, in a desperate act, leaped from the school building's rooftop. While immediate medical assistance was provided, the unfortunate incident claimed her life.
In a surprising turn of events, the police detained the school's principal and a teacher, invoking strong opposition from various quarters. The incident has generated intense conversations about the well-being of students, the role of the school administration, and the need for improved mental health support within educational institutions.
In solidarity with the aggrieved Principal and Teacher, a number of schools in Meerut have symbolically closed their doors today, draping black banners across their entrances. The closure was not merely a display of protest but also a plea for a more robust framework for addressing students' emotional well-being and grievances. The private schools of Uttar Pradesh, associated with CBSE, ICSE, and UP Board, have chosen to stand together in a gesture of solidarity.
These institutions pull down their shutters, voicing their concerns in unison.
A delegation of concerned educators and community members, including the school principal, handed over a memorandum to the District Magistrate (DM) expressing their concerns about the incident and demanding a thorough investigation.
The tragic event has prompted a broader conversation about the critical role schools play in nurturing students' mental and emotional health. The incident serves as a grim reminder of the importance of providing holistic support to students and creating a safe and empathetic learning environment.
As investigations into the circumstances surrounding the student's tragic leap continue, the incident has spurred a collective effort to foster greater awareness, dialogue, and action towards ensuring the mental well-being of students across educational institutions.