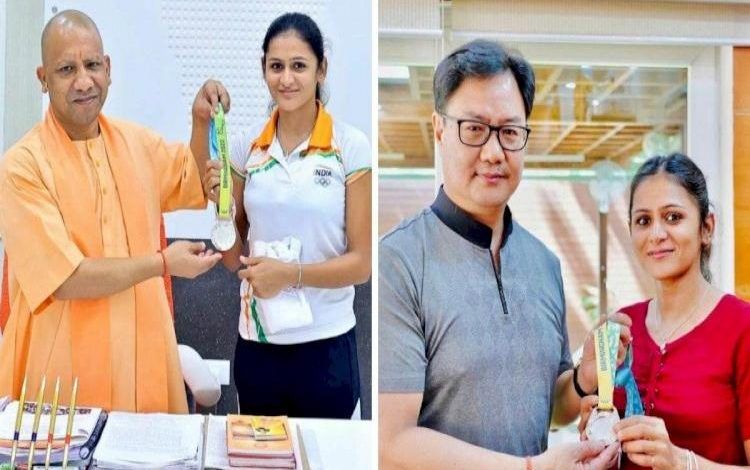 Meerut : International athlete Priyanka Goswami from Meerut, who won the silver medal in the 10,000-meter walk in the Commonwealth Games, wants to try her hand at modeling after her sports career. Priyanka, who came to Meerut after taking some time out of training, told that her first goal is to win a medal for the country in the Olympic Games.
Alia Bhatt Favorite Actress
She would like to get into modeling after winning a medal at the 2024 Paris Olympics. Priyanka adores actress Alia Bhatt and is also called Alia for her style sense. Priyanka takes it as a compliment but does not want to let fashion in any way hinder her sports career and goals.
Changes after Commonwealth Games
According to Priyanka, she has always been fond of wearing good clothes and getting photographed. Fashion was left behind as the game progressed. According to Priyanka, in the year 2010, she wanted to study fashion design at Polytechnic but could not take it. After that, she went ahead in the game, and then the fashion was lost. Now after winning the medal in the Commonwealth Games, people started interacting. In this episode, I met fashion designer Tanmaya Dwivedi who is helping Priyanka in styling.
The medal is shown to Chief Minister and Sports Minister
Priyanka, who reached Lucknow on Saturday after taking some time off during the ongoing training in Bangalore, met Chief Minister Yogi Adityanath and showed her the silver medal won in the Commonwealth Games. On Sunday, Priyanka reached Meerut after meeting former Sports Minister Kiren Rijiju in Delhi. Priyanka will leave for Bengaluru on Tuesday. Priyanka Goswami finished 17th in the Tokyo Olympics. She is confident that she will bring a medal from the Paris Olympics.
(This story has not been edited by localpostit.com and is auto generated from a syndicated feed we subscribe to)