Ghaziabad
Ghaziabad's Nishant Charitable Trust Inaugurates Free Computer Academy at Paramhans Public School, Sanjay Nagar S Block
Ghaziabad: The Nishant Charitable Trust Ghaziabad, inaugurated a state-of-the-art free computer academy at Paramhans Public School in Sanjay Nagar's S Block. The academy was formally launched by the school's Chairman, Narendra Chaudhary, the founder, KP. Singh, and the Principal, Amita Chaudhary.
Speaking on the occasion, Trust Chairman Neeraj Bhatnagar emphasized that the academy is open to learners of all ages, offering free computer education to all interested individuals. "This initiative aims to bridge the digital divide and empower members of our community with essential computer skills," he stated proudly.
The inauguration ceremony was graced by esteemed guests, including Rekha Agarwal, Sanjay Khanna, Rajiv Singhal, Kavita Bhatnagar, P.C. Joshi, Ramakant Yadav, Shiv Kumar Rai, Shreewa Agarwal, Vikas Shrivastav, Abhishek Sharma, Neelima Singhal, Shivkumar Sharma, Pushpendra Arya, and many others, who showed their support and enthusiasm for the initiative.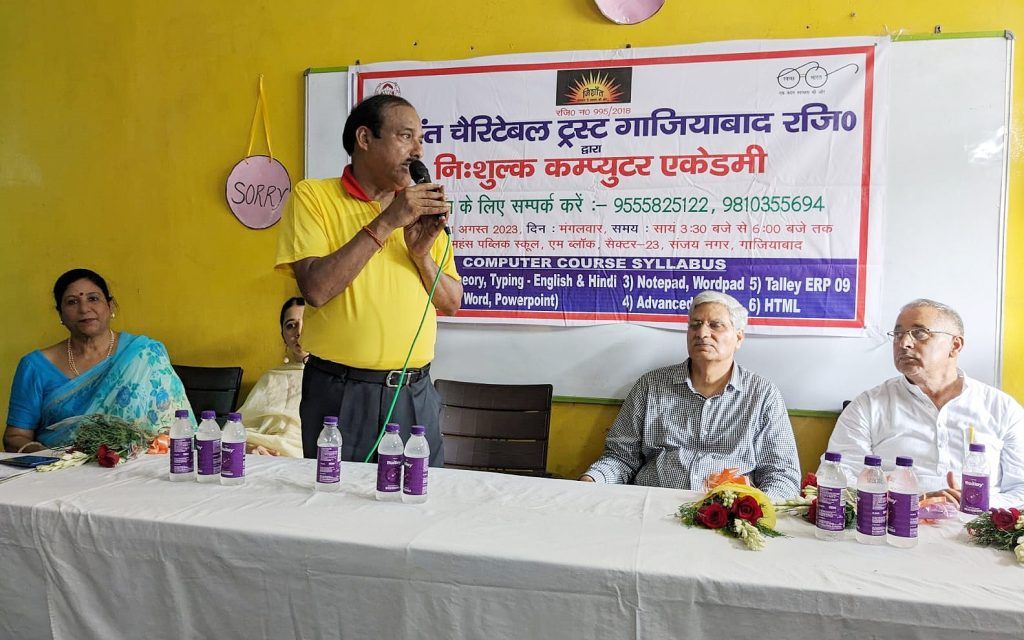 Madhu Bhatnagar, the Trustee of the institution, extended a warm welcome to all the attendees and provided insights into the various activities organized by the Trust. The computer center will be managed by Aman Singh, who expressed his dedication to ensuring the smooth functioning of the academy and assisting all learners in their computer learning journey.
The Nishant Charitable Trust's free computer academy promises to be a significant step towards equipping individuals with digital literacy, thereby fostering greater opportunities and empowerment in the local community. The initiative garnered immense appreciation from all present, and the Trust looks forward to positively impacting the lives of those seeking to acquire computer knowledge and skills.