Ghaziabad
Grand Celebration of Teej Fair on August 19th: Dignitaries and Extravaganza Await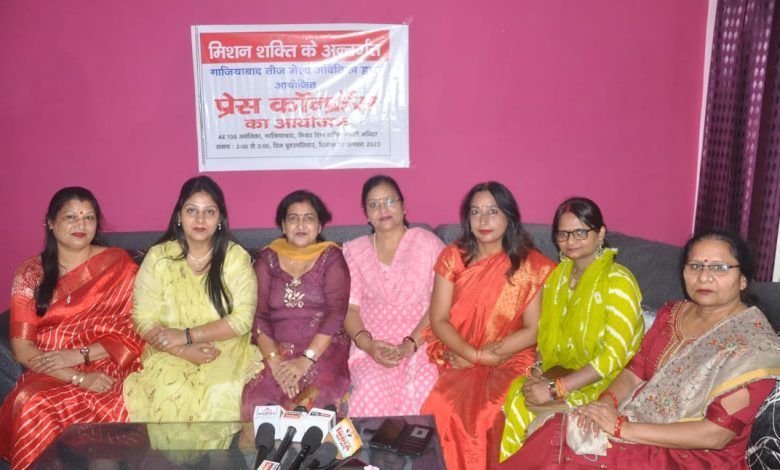 Ghaziabad: Brace yourselves for a spectacular event as the city gears up to host a grand Teej Fair on August 19th, with a lineup of distinguished guests and an array of vibrant festivities. Among the esteemed chief guests, Member of Parliament Anil Agrawal and special guest Satyendra Sisodia are set to grace the occasion. Adding to the prominence, Sunita Dayal, President of BJP Western Uttar Pradesh, and District Magistrate Rakesh Kumar Singh will also be present.
The magnificence of the event will unfold at the Tennis Court Park, Avantika, where an elaborate Teej Fair is being orchestrated. The fair promises to be a delightful blend of over 50 diverse stalls, showcasing an assortment of wares and experiences. One of the highlights will be the Lucky Draw, featuring an impressive grand prize of a 10-gram hallmark silver coin for the fortunate winner. The contest will be accompanied by an exciting lineup of entertainment and cultural programs.
In a bid to celebrate the essence of womanhood, the fair will witness more than 50 stalls, thoughtfully curated by women entrepreneurs. These stalls will encompass a wide range of offerings, including household items, clothing, rakhi stalls, and various entertaining activities such as tambola, dancing, and cultural showcases. Additionally, a Beauty Contest will crown the first-place female participant with a prestigious 20-gram hallmark silver coin.
The organizing committee has taken meticulous efforts to ensure a diverse and vibrant event, resonating with the spirit of the Teej Festival. The fair intends to serve as a platform for women to not only showcase their entrepreneurial skills but also to come together and celebrate their talents and creativity. Key members of the organizing committee, primarily composed of women, include Samridhi Bhatnagar, Dr. Neelam Sharma, Rajni Chauhan, Deepali Goyal, Radha, Shilpi, Pooja Aroda, Reena Tyagi, Reshma Tyagi, Bindu, Shaili Singh, Ayushi Tyagi, Ranjana, and many more.
The event is poised to become a beacon of women empowerment, providing a unified platform for women to collaborate and showcase their abilities. With a perfect blend of cultural, artistic, and entertainment elements, the Teej Fair promises a day of joy, celebration, and camaraderie.