Delhi NCR
Water Released from Haryana's Hathani Kund Now Troubles Residents of Ghaziabad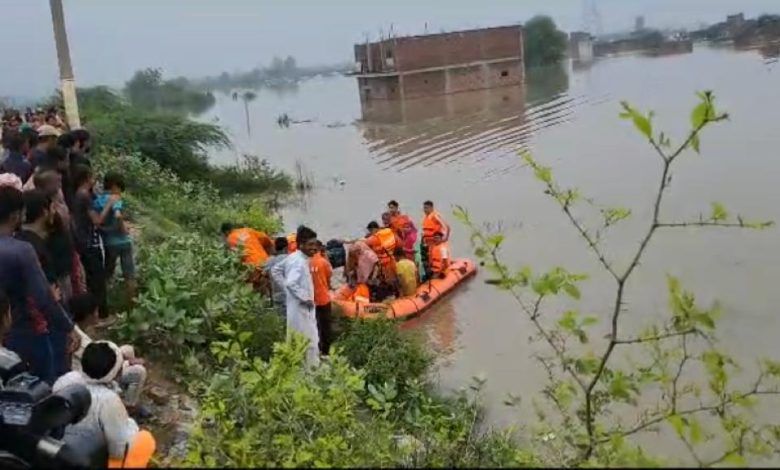 Ghaziabad: The incessant release of water from the Hathani Kund reservoir in Haryana, which had been causing trouble for Delhi residents, has now started to inconvenience the people of Ghaziabad. Particularly affected is the Ali Bagh Dam situated near Loni, a locality adjacent to Delhi. The sudden increase in water pressure has resulted in significant damage to the dam, leading to flooding in approximately a dozen villages in Loni. However, as a precautionary measure, relief efforts have been initiated by the Ghaziabad administration and the Baghpat administration, with both sides deploying National Disaster Response Force (NDRF) teams and installing water pumps to mitigate the situation.
Despite these efforts, the water level continues to rise rapidly, necessitating the evacuation of surrounding villages. The administration has issued directives to ensure the safety of residents and to minimize potential casualties. The NDRF team has been deployed on the ground to assist in rescue operations and provide relief to the affected populace.
The sudden release of water from Hathani Kund has raised concerns among local authorities. They have begun investigating the incident to determine the cause of the increased water pressure and the subsequent damage to the Ali Bagh Dam. The exact extent of the damage is yet to be ascertained, but the administration is committed to addressing the situation promptly and restoring normalcy in the affected areas.
Citizens in the affected villages have been advised to follow the instructions given by the authorities and cooperate with the rescue teams. Efforts are underway to divert excess water and prevent further flooding. The administration is also in constant communication with neighboring districts to coordinate relief operations and ensure the safety of all residents.
The situation remains tense as the water level continues to rise. However, with the combined efforts of the administration, rescue teams, and local communities, it is hoped that the crisis will be brought under control soon. The administration assures the affected residents that all necessary measures are being taken to mitigate the damage and provide them with the necessary support during this challenging time.
Stay tuned for further updates on the ongoing relief operations and the progress made in resolving the water crisis in Ghaziabad.
Note: This story is based on the information provided and may be subject to further updates as the situation develops.