Ghaziabad
Tragedy Strikes as Car Hits Sleeping Dog in Rajnagar Extension Ghaziabad: Owner Faces FIR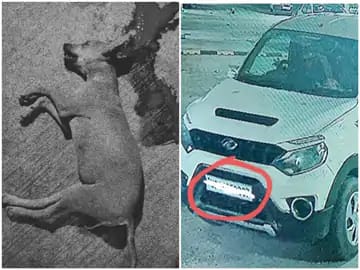 Ghaziabad: In a heart-wrenching incident that occurred in Officer City-2 Colony, a week after a pack of five dogs had cornered an innocent child, another distressing incident came to light. CCTV footage revealed a horrifying scene as it struck and fatally injured a sleeping street dog. Outraged animal lovers filed an FIR against the car owner at Nandgram Police Station late on Monday.
The incident has stirred a strong response from the local community and animal rights activists, shedding light on the plight of stray dogs who are often subjected to unnecessary cruelty. The incident has sparked a debate on the need for better awareness and sensitivity towards these vulnerable creatures.
This tragic event has ignited discussions on responsible driving and the importance of animal welfare. As the investigation proceeds, the incident stands as a somber reminder of the need for empathy and respect for all living beings that share our surroundings.