Business
TCL Introduces Exciting 'Spin the Wheel' Contest for C645 TV Range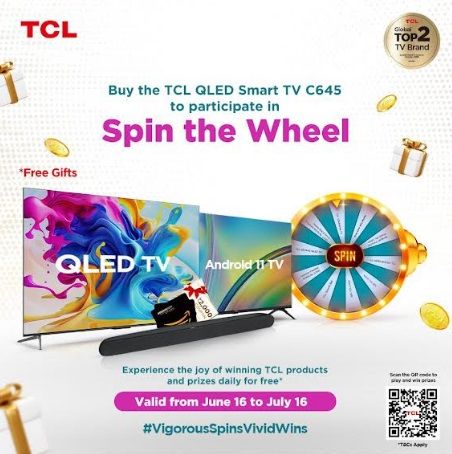 TCL, the global television giant renowned for its cutting-edge consumer electronics, is thrilled to announce the captivating Spin the Wheel contest for customers who purchase the latest TCL 4K QLED Smart TV – C645 between June 16th and July 16th, 2023.
TCL Spin the Wheel
This engaging contest aims to reward customers and enhance sales of TCLs flagship C645 TV model. Presented in a captivating campaign format, it features the taglines "Vivid Colors Vigorous Life" and "TCL, Inspire Greatness", along with the hashtag #VigorousSpinsVividWins for social media and online promotions.
Expressing his excitement about the contest, Mr. Philip Xia, CEO of TCL India, stated, "The C645 delivers an immersive viewing experience and stands out among our flagship products. Creating a contest around it is an excellent way to spark excitement among our valuable customers. Its our way of rewarding them for their trust in us."
The contest unfolds in two phases: Awareness and Activation. Phase 1, running from June 12th to June 15th, 2023, focused on promoting contest statistics and videos across various digital media platforms. Phase 2, beginning on June 16th, 2023, allows customers to try their luck and win exciting prizes such as TVs, sound bars, TCL Brand Store Coupons, Amazon Vouchers and TCL coins by spinning a virtual wheel on TCLs official website. The contest is open to all customers, including those purchasing from TCLs online brand store and offline marketplaces like Reliance Digital and Croma. Online buyers can access the contest landing page through the banner available on the TCL website, while offline purchasers can access the page either by visiting the TCL official website or by scanning a QR code after their purchase.* (T&C Applied)
To promote the contest, TCL will leverage popular social media platforms such as Instagram, Twitter, Facebook, and YouTube. The selection of the recently launched C645 model for this campaign is strategic, as it boasts top-of-the-line specifications and cutting-edge technology, providing a world-class viewing experience.
The contest effectively conveys the energetic nature of the campaign, aligning with TCLs brand messaging and generating excitement around the vibrant prizes participants can win. It inspires action, encourages sharing, and sets itself apart with a unique combination of vigor, spins, and vivid wins. This initiative is expected to bolster the companys brand presence and reinforce its position as a significant player in the market.
About TCL Electronics
TCL Electronics is a fast-growing consumer electronics company and a leading player in the global TV industry. Founded in 1981, it now operates in over 160 markets globally. TCL specializes in the research, development and manufacturing of consumer electronics products ranging from TVs, audio and smart home appliances. The company has achieved the "Top 1 spot in the 98-inches TV and Android TV" category. Besides this, TCL has also been ranked global "Top 2 TV Brand" according to OMDIA.
Visit TCL home page at www.tcl.com/in/en.
Follow TCL India:
Twitter: @tcl_india,
Facebook: @TheCreativeLifeIndia,
Instagram: tcl_india,
YouTube: @TCLIndia