Ghaziabad
Lethal Liquor Alert: Ghaziabad's Licensed Outlets Peddling Poisonous Potions; Adulterated Brews Exposed!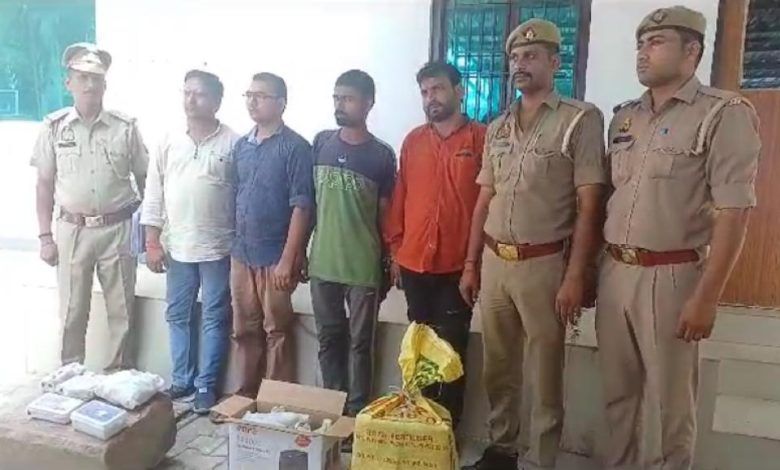 Beware of Adulterated Liquor: Illicit Liquor Found at Licensed Shops in Ghaziabad
Ghaziabad: If you're someone who enjoys consuming alcohol, this news is especially important for you. Alarming reports have surfaced regarding the sale of adulterated liquor at government-authorized shops in Ghaziabad, posing potential health risks to those who purchase from these outlets.
A recent incident in the Shalimar Garden area of Ghaziabad has shed light on this concerning issue. Acting on a tip-off, the police conducted a raid at a model shop in the vicinity. During the raid, authorities discovered a room within the model shop premises where adulterated liquor was being prepared.
Four individuals were apprehended at the scene by the police. Deputy Commissioner of Police (DCP) Trans Hindon, Shubham Patel, informed that a tip had been received regarding the sale of adulterated liquor near the DLf Colony. Based on this information, a joint operation was carried out by the local police and the crime branch.
The authorities executed a search warrant at the liquor shop, leading to the discovery of a room equipped with tools for manufacturing adulterated liquor, along with a significant number of bottles, some bearing suspicious QR codes. The empty bottles were also recovered. According to DCP Shubham Patel, these individuals had been involved in the illegal production and sale of adulterated liquor for a considerable period.
In connection with this case of manufacturing adulterated liquor, the mastermind behind the operation, Munesh, a resident of Aligarh, revealed to the police that he had been engaged in this illicit activity for a prolonged duration.
This incident serves as a stern warning to all those who indulge in consuming alcohol. Authorities are urging the public to exercise caution while purchasing liquor from licensed shops and to report any suspicious activities to law enforcement agencies. The health hazards associated with adulterated liquor cannot be overlooked, and the authorities are determined to crack down on this illegal trade to ensure the safety and well-being of the residents.