Meerut
Divyang Mahapanchayat: Empowering the Disabled Community for a More Inclusive Future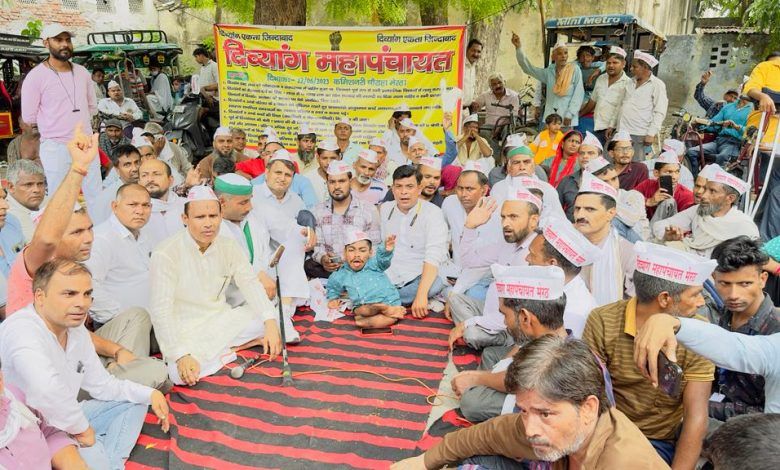 Divyang Mahapanchayat Held in Meerut to Address Issues Faced by the Disabled Community
Meerut: A Divyang Mahapanchayat (Grand Council for the Disabled) was organized today in Meerut, where individuals with disabilities presented their grievances to the Chief Minister, Prime Minister, and the District Magistrate. The event aimed to shed light on the challenges faced by the disabled community in their daily lives.
The government had introduced an Act in 2016 to address the concerns of the disabled community, but its implementation at the grassroots level has been lacking. In response, representatives from various districts and states across the country gathered at the Divyang Mahapanchayat and voiced their opinions. They appealed for the effective enforcement of the 2016 Act.

Among the prominent attendees were Amit Kumar Sharma, Vinod Gupta, Ravi Nayak, Sanjeev Tyagi, Raj Chaudhary, Bharat Lal Sharma, Kanha Ram, Tahsim Rizwan, Rekha Rani, Anjali Pradhan, Pawan Kumar, Sanjay Tomar, Gautam Tomar, Jitendra Nagar, Nitin Upadhyay, Mainuddin, Sarfaraz, Mohsin, Aamir Malik, Soyeab, and others.
The participants shared their personal experiences and highlighted the need for better accessibility, inclusive education, employment opportunities, and equal rights for the disabled community. They stressed the importance of ensuring that the 2016 Act is effectively implemented, providing necessary support and facilities to empower individuals with disabilities.
The Divyang Mahapanchayat concluded with a collective resolution to continue advocating for the rights and welfare of the disabled community. The participants expressed their hope for positive action from the government in addressing their concerns and ensuring a more inclusive and accessible society for all.