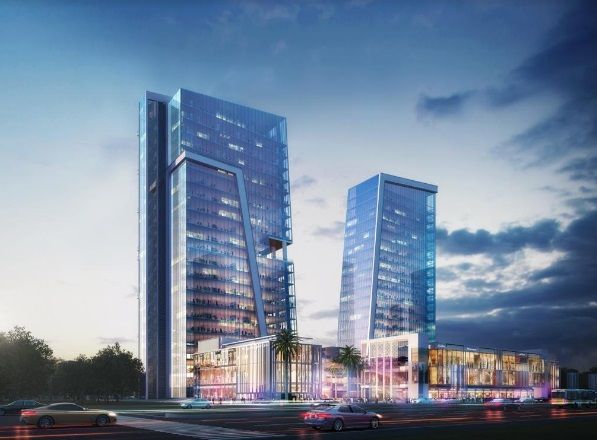 Ace Group, a leader in the real estate industry known for its pioneering projects, has unveiled its latest commercial project 'Ace 153' in Sector 153, Noida. With a rich portfolio encompassing over 15 million sq. ft. of completed projects and an additional 15 million sq. ft. currently underway, Ace Group continues to set new standards with its state-of-the-art projects.
Ace 153
Strategically positioned less than 500m from the expressway and within a short walk from the metro station 'Ace 153' stands as a game-changer in the commercial landscape. Located along the route from Noida International Airport at Jewar, this extraordinary project offers the advantage of prime location and easy connectivity and lucrative investment opportunities.
Ace 153 represents a paradigm shift in architectural excellence and functionality. With its innovative design, the project features a central socialising arena, plush office lobbies, premium facilities at Club Martini, rooftop dining, al fresco options, and a well-placed retail boulevard. These elements combine to create an ideal environment for businesses to thrive and succeed.
Unveiling the grand project, Mr. Ajay Chaudhary, CMD of Ace Group, said, "Ace 153 exemplifies our unwavering commitment to innovation and excellence. I take immense pride in introducing this exceptional commercial extravaganza that will redefine the landscape and create new possibilities for businesses. With its innovative design, strategic location, and world-class amenities, Ace 153 stands as a testament to our relentless pursuit of quality construction and customer satisfaction. We have meticulously crafted this project to provide an optimal environment for businesses to thrive and succeed, fostering a perfect blend of productivity and luxury."
He further emphasised that Ace 153 represents a significant milestone in the journey of Ace Group, showcasing the companys dedication to creating unmatched spaces that inspire success and foster growth.
The strategic location of Ace 153 holds immense importance. Its proximity to the expressway, metro station, and Noida International Airport route ensures seamless accessibility and opens doors to new possibilities for growth and expansion. This prime location offers businesses a competitive advantage and sets the stage for significant returns on investment.
The grand launch of Ace 153 was celebrated in a packed channel partners meet attended by over 1,000 esteemed channel partners, showcasing the immense excitement surrounding this project. The event featured a new rewards system, offering substantial benefits to partners from Bronze to Platinum. The event was elevated by a special appearance from Sophie Chaudhary, with Shonali Nagrani as a host.
Under the guidance of CMD Ajay Chaudhary, Ace Group continues to redefine the commercial real estate landscape as it ventures into the next decade, committed to a better tomorrow with Ace 153 at its helm.
Ace 153 goes beyond the realm of a traditional commercial project. With its breathtaking office views and dedication to excellence, Ace Group is poised to redefine commercial real estate landscape and beyond.
For more information, please visit www.acegroupindia.com.