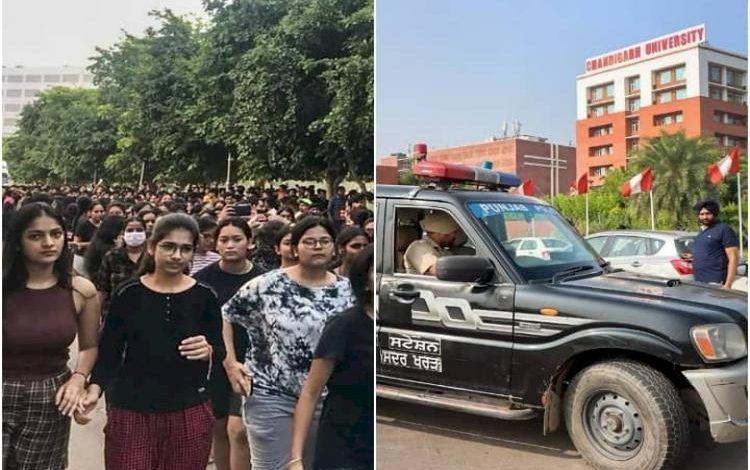 Chandigarh : A youth has been arrested in the MMS case of Chandigarh University, Mohali, Punjab. Shimla District Police has detained a 23-year-old youth. According to Himachal Pradesh Police sources, the accused person can be arrested soon by the Punjab Police. Himachal Pradesh DGP Sanjay Kundu tweeted that we have caught the accused in the alleged 'objectionable video leak' case of Chandigarh University. Himachal Pradesh Police has taken this action with sensitivity and professionalism at the request of the Punjab Police.
Kharar DSP Rupinderdeep Kaur said that one arrest was made in the case last night and based on the leads, more arrests have been made. We will share more details later. In fact, students of a private university in Mohali, Punjab, staged a massive demonstration over the 'rumor' that a hostel student had made 'objectionable' videos of several other girl students, after which Chief Minister Bhagwant Mann Ordered an inquiry on Sunday.
student arrested
After the initial investigation of this case, the police arrested a girl student, while now a youth was detained in Himachal Pradesh, for whom a team has also been sent to nab. Punjab Additional Director General of Police Gurpreet Dev, who reached the campus of Chandigarh University along with other senior officials to take stock of the situation after last night's protest, told reporters that it appears that the accused student shared a video of herself with the youth. No objectionable video of any other student has been found.
What did university officials say?
University officials also dismissed as "false and baseless" reports that claimed videos of several girl students were made and shared on social media in the university hostel and that several girl students committed suicide after the episode. Tried. Mohali Senior Superintendent of Police Vivek Sheel Soni told reporters that the protest took place at the university after midnight following "rumors" that videos of several girl students were leaked.
He said that the mobile phone of the arrested student has been confiscated for forensic examination and no case of attempted suicide of the girl student has come to light and no one has died in this case. Officials said that a case has been registered under Section 354C of the Indian Penal Code and the Information Technology Act and an investigation is on.
Chief Minister ordered an inquiry into the incident
Chief Minister Mann has ordered an inquiry into the incident and said that strict action will be taken against those found guilty. Chief Minister Mann tweeted, "Sad to hear about the unfortunate incident of Chandigarh University. Our daughters are our honor. A high-level inquiry has been ordered into the matter. Whoever is found guilty, strict action will be taken against him.
Arvind Kejriwal also tweeted
"I am in touch with the administration," he said. Along with this, Mann appealed to the people not to pay heed to the rumors. There were also sharp reactions from political parties regarding this incident and central and state women's rights bodies also intervened. Delhi Chief Minister and Aam Aadmi Party (AAP) national convener Arvind Kejriwal said those involved in the case would get "the harshest punishment". Kejriwal tweeted, "Victim daughters have courage, we are all with you, everyone should act with restraint."
Punjab Women's Commission chairperson Manisha Gulati also reached the university campus and took stock of the situation. "I can understand the concern of the parents and want to assure them that the matter is being investigated by the police," she said. Video made. Whether he recorded the video of other girls or not is a matter of investigation."
National Commission for Women wrote a letter
The National Commission for Women said in a statement that the body's president Rekha Sharma has written a letter to the Director General of Punjab Police asking her to immediately register an FIR in the matter and deal strictly with the matter without any negligence. The commission said that the victim girls of the case should be given proper counseling and their safety should be ensured. The women's rights body has also written a letter to the Vice-Chancellor of Chandigarh University to take strict action against the culprits as per law and asked the university to conduct a thorough investigation into the matter in an impartial manner.
Opposition parties demand strict punishment
Opposition leaders including Congress's Punjab unit president Amarinder Singh Raja Wadding, former Chief Minister Amarinder Singh, Shiromani Akali Dal leader and former Union Minister Harsimrat Kaur Badal, and senior Congress leader Pratap Singh Bajwa have slammed the culprits. demanded punishment. Badal said that the government should make all the facts public and should not try to suppress anything.
(This story has not been edited by localpostit.com and is auto generated from a syndicated feed we subscribe to)