Dehradun
News
Uttarakhand
"Jigyasa for Renewable Fuel" program conducted at CSIR-Indian Institute of Petroleum, Dehradun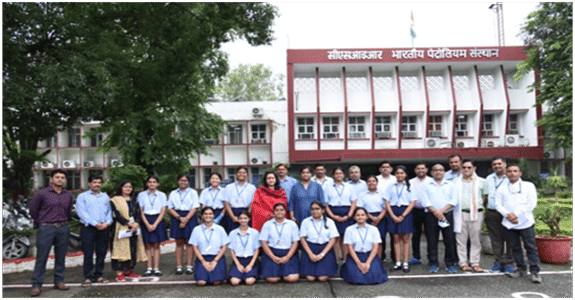 Dehradun : A four-day "Jigyasa for Renewable Fuel" program under Jigyasa 2.0 program was successfully organized for the students of XIth class of Scindia Kanya Vidyalaya, Gwalior during 29 Aug-01 Sept 2022 at CSIR-Indian Institute of Petroleum, Dehradun.
The 4-day program was inaugurated by Dr. Anjan Ray, Director, CSIR-IIP Dehradun. The main objective of the program is to give an exposure to different technologies developed for the utilization of non-edible vegetable oils, used cooking oil and waste plastic to different types of fuels.
Dr. Anajn Ray, motivates the students to look for different types of waste they are generating in their daily life and suggested the paths to minimize the waste generation and further utilization for energy & fuels. He also emphasized a collective effort is needed to achieve the net zero CO2 emission target. During this program, students got an opportunity to interact with the Scientists and technical officers of CSIR-Indian Institute of Petroleum.
A series of lectures were delivered on different themes like, Renewable Fuel, Alternate Fuel, H2 as future Fuel, Electrical Vehicle retrofitting, Artificial Intelligence & Machine Learning, Petrochemicals and Polymers by Dr. Anajn Ray, Dr. Neeraj Atray, Dr. Anand Narani, Dr. Sunil Kumar Suman, Dr. Sanat Kumar, Dr. Subham Paul, Dr. Nanoji Islavath, Dr. Robindro L., Dr. Tuhin S. Khan, Dr. D.V. Naik and Dr. Umesh Kumar to enhance the scientific temperament of students.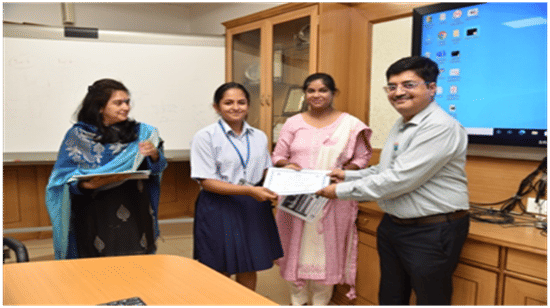 Students also get exposure to process of RUCO to Biodiesel as well as dry ice formation from CO2. Besides this, students also visited various laboratories such as Bio-technology & Biochemistry lab, Adsorption & Membrane Separation lab CFR Engines, Emission Testing Lab, Thermo Catalytic Process Lab, advanced crude oil research centre, IR, and GC-MS lab. They also visited pilot plants of Waste Plastic to Fuels & Chemicals, and Biojet Fuel. During the Valedictory function participation certificates for students were given by Prof. SK Ganguly, Chief Scientist, CSIR-IIP.
In the organization of this program Dr. Ankur Bordoloi, Principal Scientist; Dr. Umesh Kumar, Senior Scientist; Dr. GD Thakrey, Senior Principal Scientist; Dr. Kamal Kumar, Sr. Technical Officer; Dr. Deependra Tripathi, Sr. Technical Officer; Dr. Jyoti Porwal, Sr. Technical Officer; Dr. Pradeep Tyagi, Sr. Technical Officer; Dr. Raghuvir Singh, Sr. Technical Officer; Mr. Mukul Sharma and Mr. Pankaj Bhaskar played an exemplary part in making the programme a success. The whole programme was coordinated by the Jigyasa coordinator, Dr. Aarti, Principal Scientist CSIR-IIP.
PIB Delhi