Environment
Snowfall in the Sahara Desert – an Unusual Weather Phenomenon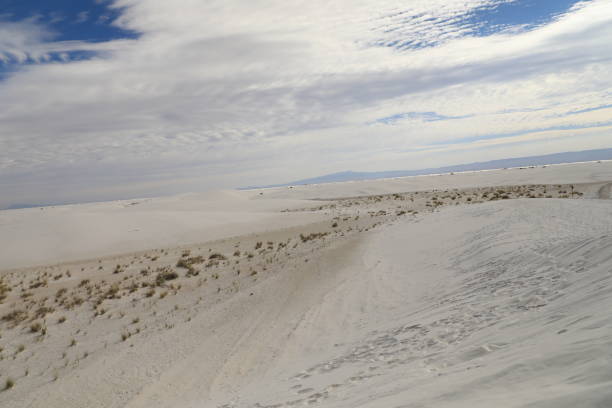 January brings snowfall to many parts of the world, but snowfall in hot desert is unheard of. In an exceptionally rare event, the world's hottest desert experienced snowfall in January this year. It may sound absurd but it's not unprecedented. The Sahara Desert has witnessed snowfall five times in the last 40 years of which four times was in the last decade itself, with previous occurrences being in 1979, 2016, 2017, 2018, 2022 and latest being in January 2022.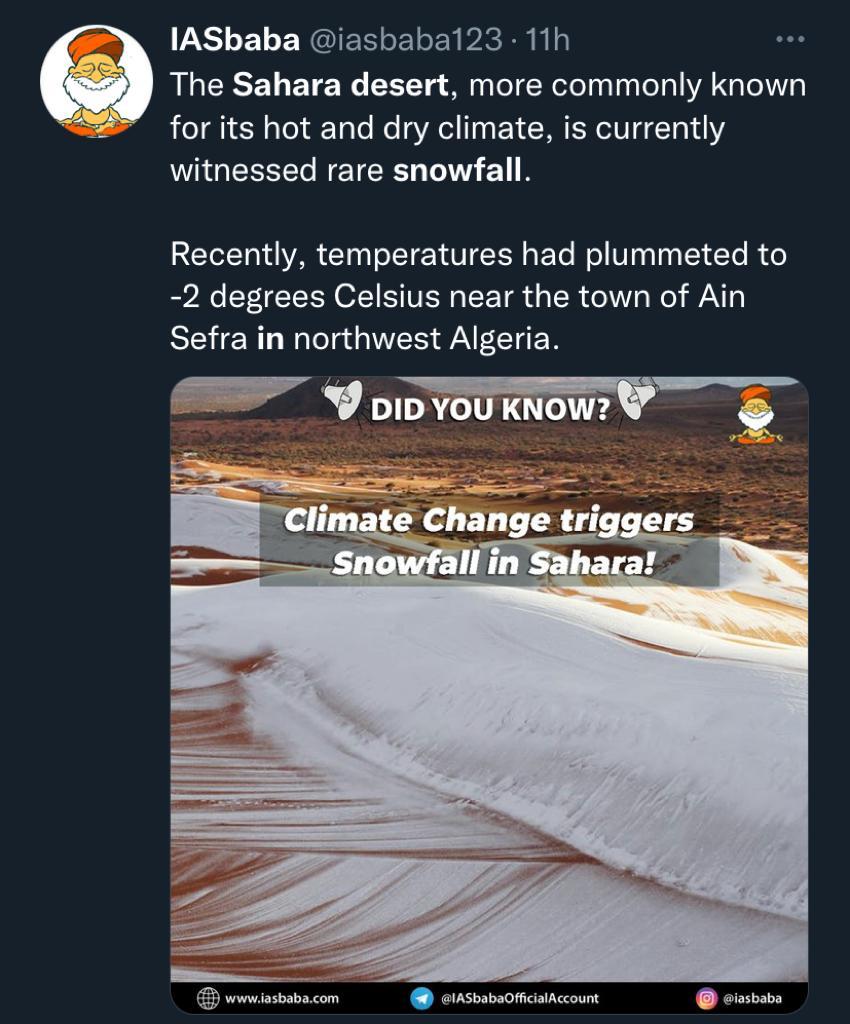 The Sahara is the world's largest hot desert. It spans across 11 countries in northern Africa: Algeria, Chad, Egypt, Libya, Mali, Mauritania, Morocco, Niger, Western Sahara, Sudan and Tunisia. This rare event took place near the town of Ain Sefra in Algeria located in the Atlas Mountains, 1,000 metres above sea level and is known as "the gateway to the desert".
Although the usual temperatures of the Sahara Desert crosses 50 degree, low temperatures are also recorded during the night. There was a record low of -14 degree in 2005. Sahara witnesses less than 100 mm of rainfall per year but because it has water bodies on three of its four sides, the peripheries of the desert are wetter. This means that snow is more likely to form on the periphery of the desert. The 2016 snowfall was the most surprising of all, considering it only happened after 37 years of the previous occurrence. In 2018 heavy snowfall was recorded, it was unto 1 m in the elevated areas. This year, however, it was just a light dusting, covering of red sand dunes with a coat of white. The pictures beautifully show ice crystals sitting the sand, forming unique patterns and citizens from the nearby towns welcoming the relief from the scorching heat and high temperatures.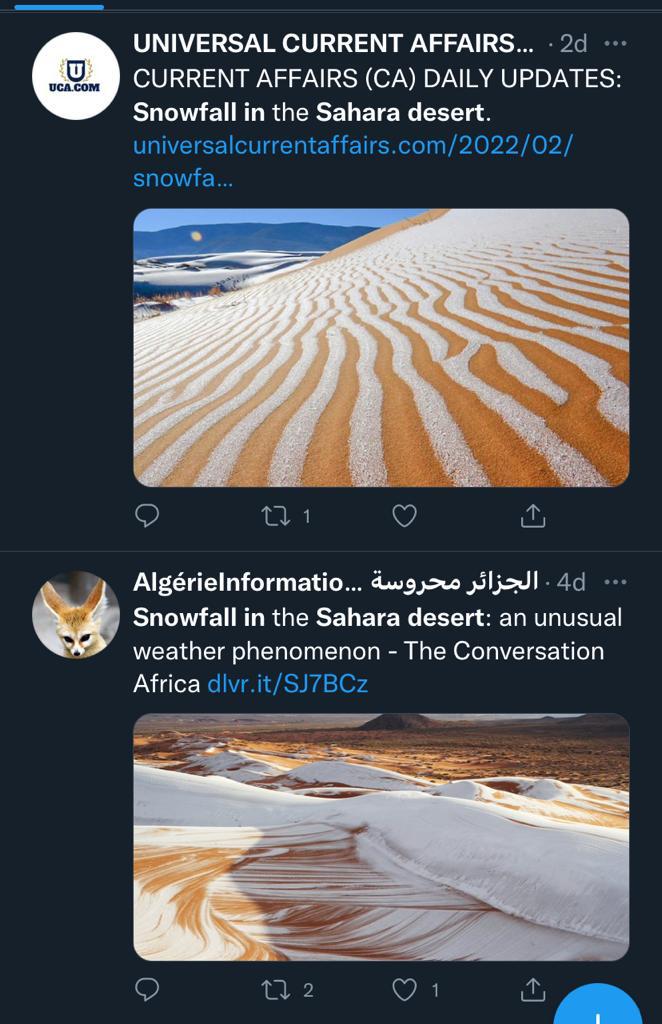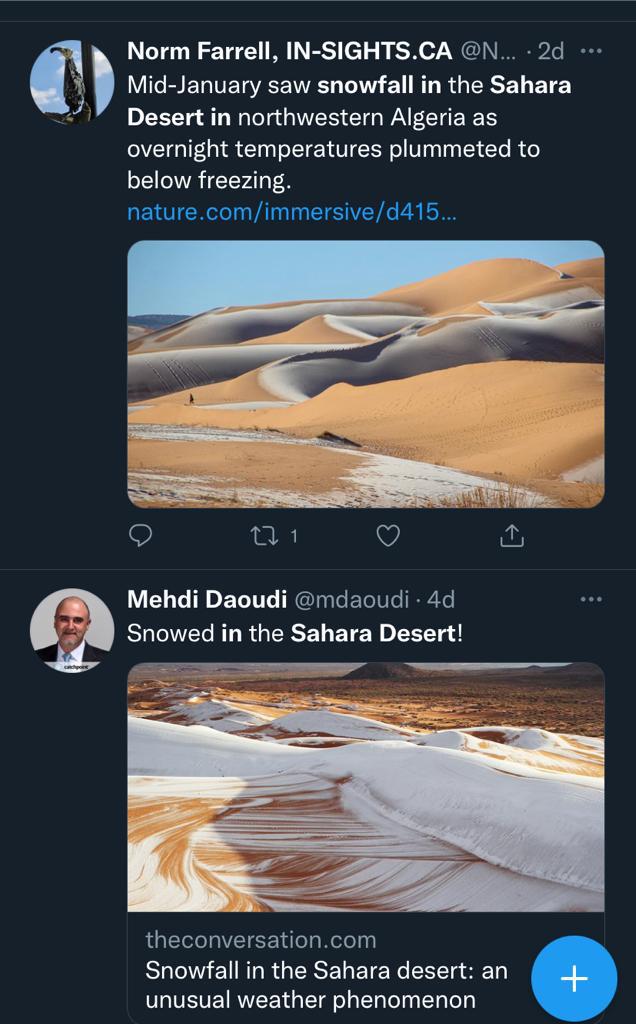 A question that arises is if this frequent snowfall in the Sahara a result of climate change?
"Such situations, including snowfalls in Sahara, a long cold spell in North America, very warm weather in the European part of Russia and sustained rains which sparked flooding in Western European countries, have been occurring more frequently," "The high recurrence of these extreme [weather] conditions stems from global warming. It's an opinion shared by members of the Intergovernmental Panel on Climate Change."
Climate change is real and has managed to wreak havoc across many African countries with soaring temperatures. Notably, many studies have pointed out that it is due to climate change that the Sahara Desert has grown by 10 per cent than what it was nearly a century ago. ​​
However there are contradicting opinions as well, a lot of scientists say that due to lack to sufficient data, nothing concrete can be said on specifically snowfall in Sahara and the climate crisis.